Building a Community: How Granbury, TX Built a Profitable App
Creating a mobile application that drives downloads and engages users takes some finesse. There are many different strategies to consider when it comes to meeting the needs of users with valuable content, and marketing an app successfully. We've found that a partnership approach is an effective way to achieve both.
The newly launched I Love Granbury Texas app is a perfect example of how this collaborative approach can be applied to a community like yours. The Official App of Granbury features a wide variety of content and contributions from the major organizations in the city which helps to expand its reach and value to app users.
Granbury, Texas is a smaller city that's a short drive from the bustling Dallas-Fort Worth metroplex. Featuring a lake perfect for recreation, a thriving local business community and unique historical appeal, the Granbury economy depends on tourism dollars as well as support by area residents.
We worked with the Granbury Chamber of Commerce to spearhead the project and then rallied participation from the City of Granbury, Visit Granbury, Inc., and the Historic Granbury Merchants Association, resulting in a comprehensive resource for the community.
Ushering in a new era of collaboration between the community's major organizations, the app provides a true community portal for everything Granbury. It is designed to appeal to both visitors and residents alike, and is the first app of its kind for the area which fills a need as well as ensures that it is easy to find in the app stores.
The app includes a wealth of local business information encompassing professional services, shopping, dining, lodging, attractions, real estate, auto care, health services and more. The president and CEO of the Granbury Chamber was instrumental in bringing together member businesses to submit their content for the app and noted that the community's excitment has been amazing.
The Chamber is thrilled to be able to join zCivic in offering this state-of-the-art mobile app to Granbury and its thriving business community. The overwhelming acceptance and enthusiasm for the app has been impressive.
Mike Scott, President and CEO of the Granbury Chamber of Commerce
Revenue generation for the chamber of commerce was also a consideration. The project was designed to help them generate non-dues revenue to support other chamber initiatives that strengthen the local economy. Multiple sponsorship and advertising options were devised to provide local businesses with opportunities to reach consumers, as well as create that new income stream for the chamber.
Drawing in Visit Granbury, Inc., the community's destination marketing organization, was a natural fit to help provide focused content for visitors. The Granbury Resort Conference Center has a dedicated section with a virtual tour and information designed to help meeting and event planners when researching potential venues.
The Granbury Square Historic District offers unique opportunities for residents and visitors to take a step back in time and experience the "Texas take" on the Victorian Age. The Historic Granbury Merchants Association represents the many businesses in the historic district. The app offers information to help users shop, stroll and savor as they explore the first Texas town square to be added to the National Register of Historic Places.
The City of Granbury is also utilizing the app to provide residents with contact information for city facilities and departments, an opportunity to meet the city council and staff, as well as information about parks and recreation programs, and links to bill pay services. The city has been enthusiastic about using the app to provide a one-stop digital place to access city services and discover economic development opportunities in Granbury.
Learn how your community can benefit from an app.
Speak with one of our mobile experts today.
The app content is rounded out with coupons, deals, mobile loyalty cards, a community events calendar, sample itineraries that offer suggestions on how visitors can spend their time, and information about the Granbury ISD. The overall goal was to create an app that has broad appeal and valuable information and features for all users, and has clearly achieved it.
Working with this diverse set of app partners has the additional benefit of extending the marketing reach for the app. We created a suite of marketing materials and graphics to help the different organizations electronically market the app on their websites and social media accounts, print materials as well as their physical locations with window decals. We recommend easing the start-up marketing and launch efforts for a project like this by taking the lead in producing support materials for your partners.
While the app is already available on Google Play and the App Store, a companion responsive website is in development to further extend access to the I Love Granbury Texas app content. While the overwhelming buy-in from the major Granbury organizations has helped us build a valuable app for the community, we're also welcoming additional organizations and businesses that want to be a part of the app to reach an even broader audience. Adding new content continuously to the app will be instrumental to retaining app users and engaging them over the long term.
Download the I Love Granbury Texas app to see how this joint effort has come together and garner some ideas for building your own unique community portal app strategy.
Tags:Client Stories Inspiration zCivic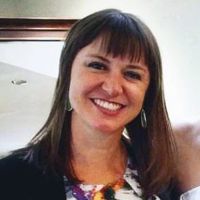 Sunny S
Sunny has been working in mobile and location-based technology since 2008, specializing in marketing, business development, and project management. She lives in Denver with her husband and kitten, where she enjoys outdoor adventures and craft brews.
---
Related Posts
---