Mobile Apps Support Chamber Legislative Trips and Advocacy Initiatives
Since the first chamber of commerce in the United States was founded in 1768 in New York, chambers have worked tirelessly to protect and promote the interests of businesses. These networks of business owners provide many benefits to their members and the communities they serve. While chambers of commerce are driving forces in economic development and fostering enhanced educational opportunities, perhaps one of the most unique and valuable roles they play is advocating on behalf of the business community to local and state government.
Much like a labor union, there is power in numbers and chambers of commerce have the ability to unite local business owners to come together to achieve common goals. Whether it is lobbying to get pro-business laws passed or pushing for infrastructure improvements, chambers are the face and voice of the local business community to government.
"There is a lot going on regarding Chambers and advocacy – it's one of the primary reasons we exist, especially in our area where there is no city hall or governor to carry out decisions and approach legislators," said Hannah Beard, the Events and Marketing Manager for the Houston Northwest Chamber of Commerce.
One of the ways that chambers achieve their business advocacy goals is through organizing formal events to connect their chamber to the legislative process. In Texas, this is being carried out through a series of chamber programs in the state's capital throughout the month of February. Chambers utilize all of the communication tools at their disposal to support these initiatives, and none is more effective than the flexibility found in a dynamic mobile app.
zCivic chamber partners are utilizing their mobile apps to assist with the planning, outreach, and organizational tasks needed to make these events a success, such as -
Publishing an overview about the trip to create interest and understanding about these important chamber initiatives

Offering itineraries and calendars of events with links, maps and cost details that can be updated on-the-fly as needed

Delivering hotel details and bus schedules

Providing links for delegates to register

Offering a direct line to submit questions & feedback

Including interactive features such as photo submissions so delegates can share their photos from the events with state legislators
Each chamber of commerce plans their legislative events a little differently depending on the needs of their unique area and their apps can be tailored accordingly. The Midland-Odessa Legislative Days was extended to include a time for smaller, more substantive visits with legislators, thought leaders and agents of change in Austin. Their event focused on networking with legislators and gathering knowledge through a series of sessions and small group appointments. The Midland Chamber of Commerce and Odessa Chamber of Commerce utilized their apps, Passport 2 Midland and Our Odessa Texas to provide a detailed itinerary of the trip to delegates and an interactive form for questions, feedback and photo submissions.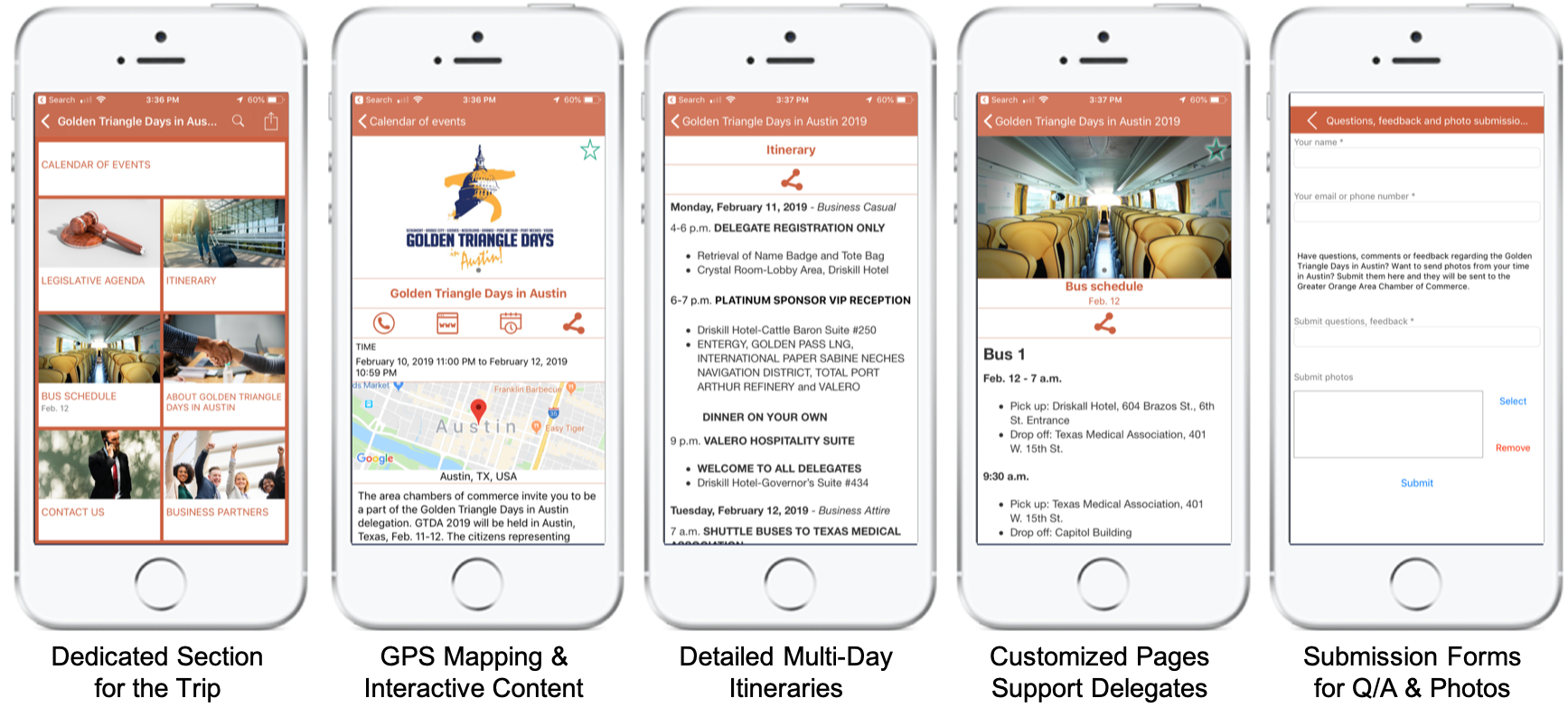 The Golden Triangle Days in Austin is a collaborative event between the Greater Port Arthur Chamber of Commerce, the Greater Beaumont Chamber of Commerce, and the Greater Orange Area Chamber of Commerce. The Golden Triangle is the "energy-gateway" for the state of Texas and the United States, home to the largest petrochemical refining and manufacturing complex in the nation. The chambers send delegates to represent the important business issues facing the Golden Triangle region. This multi-day event includes visits to the capital, several receptions, and a variety of educational sessions focused on topics such as transportation, infrastructure and environmental progress that take place at different locations. Organizing delegate bus transportation to all of these different locales is a big undertaking so communicating a detailed bus schedule with pick-up and drop-off locations and times was a perfect use of their apps. A number of business partners have donated funds to help make Golden Triangle Days happen and a Business Partner section in the apps offer a way to recognize sponsor contributions.
The Houston Northwest Chamber of Commerce collaborated with the Alliance of North Houston Chambers of Commerce to plan the North Houston Advocacy Trip at the end of February. Their trip will allow business leaders to learn "Lobbying 101" and the legislative process, represent the interests of businesses to key legislators and hear the perspectives of state leaders firsthand. The Discover Northwest Houston app provides the trip information and itinerary, in addition to registration options and links to help delegates register to join.
Despite the differences in format and execution, all of the legislative and advocacy events are aimed at strengthening the business climate in each chamber's community. Offering attendees and delegates up-to-date digital information and interactive features such as GPS mapping and "tap-to-dial" contact information helps them to be more streamlined and successful.
Tags:Client Stories Inspiration Strategy Tips & Tools zCivic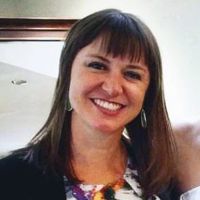 Sunny S
Sunny has been working in mobile and location-based technology since 2008, specializing in marketing, business development, and project management. She lives in Denver with her husband and kitten, where she enjoys outdoor adventures and craft brews.
---
Categories:Chambers of Commerce
Related Posts
---